Can you get
online accounts

software and a

bookkeeping

service, from a

Chartered

Accountant, at

unbeatable

prices?
You can

now!
.......Bookkeeping has never been easier
Cloud Accounting
EcoOffice combines a
Chartered Accountant
with a
cloud based accounts package
that stores your financial documents right where they belong. You'll never need to search for an invoice again!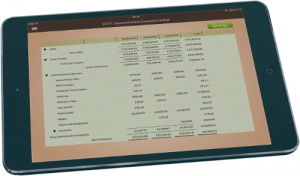 At any place in EcoOffice you can just double click a transaction and it will immediately
display the original document
on your screen. VAT inspections will never be the same EcoOffice will also do some time saving things for you, like
automatically calculate work in progress
, or prepaid expenses, producing very accurate management accounts. Jobs can be set up to compare sales and expenses on a job by job basis, and you can even track time records per job. Bank accounts can be downloaded from your bank and
imported
into EcoOffice which will remember where each item should be posted, reducing the risk of human error and
saving you time
Focus on your business
Business owners and employees should be free to focus on the things they are good at. Many small businesses don't have anyone who is great at bookkeeping. We don't just provide a cloud based accounts package, we can provide a full service accounts department, handling as much or as little of your accounts as you like.
We can process your financial documents, run your payroll, produce VAT returns, monthly management accounts and annual accounts, and even contact suppliers on your behalf to sort out missing invoices or discrepancies in your supplier statements.
EcoOffice can give you access to everything you need, while removing all the stress associated with keeping your financial records up to date and accurate
Just scan, or snap a photo of your documents, import or email them to us, and by the following day your accounts can be updated. All you need to do is sleep and let a Chartered Accountant handle the rest!
"For businesses that are Going somewhere"
"I love it! I love it! I love it! I can see all my receipts. I don't have to worry about where I have put them. I can see everything!"
LS, Marketing Professional, Buckinghamshire
"I think the system is great, I love it!"
SS, Road Surfacing Contractor, Kent
"We have had a meeting this week to discuss where RWA is going and we want to make EcoOffice a major part of our future."
RWA Accountants, Cambridge